We support the Writers Guilds of America!
14 June 2023, an International Day of Solidarity with the U.S. Screenwriters on Strike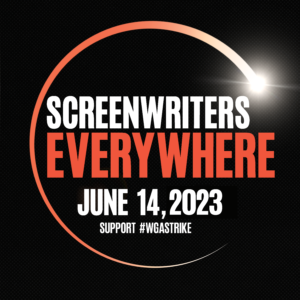 Writers and their guilds around the world know that solidarity with our friends and colleagues in the WGA is essential and important. European screenwriters have many of the same challenges, often work for the same multinational companies, and see their content distributed on the same platforms.
On June 14 2023, in more than 30 countries around the world, screenwriters and their guilds in the Federation of Screenwriters in Europe (FSE) and the International Affiliation of Writers Guilds (IAWG), along with the unions of UNI Global Union (UNI-MEI) organised pickets and other actions in support of the 11,500 members of the Writers Guild of America (WGA West and WGA East) who have been on strike since 2 May 2023.
The WGA members are on strike since May 2023. Why?
Screenwriters in the U.S., through their union, renegotiate their collective agreement every three years. Their employers include global companies like Disney, Netflix and Amazon who are refusing to pay them fairly. These global media companies have made billions from the work of writers and all the other workers who make movies and series, but they are refusing to share that value with workers.
WGA's demands include:
better pay and working conditions,
improved payments for use of writers' content on streaming services including viewership-based payments for successful programs,
protections against free work,
and restrictions on the use of artificial intelligence, so that studios cannot use it to undermine writers' compensation and creative rights.
The struggle for fair compensation and protections against these global streaming companies impacts all screenwriters. It connects to the needs of the FSE guilds and their members and the WGA wants the same things that our members need.
European solidarity
That is why FSE encouraged its member guilds to actively demonstrate their support. The response was amazing: demonstrations, pickets, press releases, letters of support, social media campaigns, interviews of prominent screenwriters, important press coverage, messages of solidarity using the hashtag #ScreenwritersEverywhere, etc.
It happened in Austria, Belgium, Bulgaria, Denmark, Finland, France, Germany, Ireland, Italy, Latvia, Luxembourg, Netherlands, Norway, Poland, Portugal, Slovenia, Spain, Sweden, Ukraine and United Kingdom.
Beyond Europe, the international solidarity was shared by guilds and unions in Argentina, Australia, Brazil, Canada, Chile, Colombia, India, Israel, Japan, Mexico, New-Zealand, Philippines, South Korea and of course, the United-States.
Pickets were organised in front of offices of Netflix, Universal, Amazon, Apple, Fox, Disney and in front of symbolic locations like the European parliament in Brussels, national parliaments or chancelleries, major monuments and film institutions.
In many countries public actions were co-organised or joined by actors, directors, crew, musicians and other cultural workers and unions.
Screenwriters really are stronger when they come together and collective action is the basis on which trade unions work. Collective action for more collective bargaining.
"A heartfelt thank you to all of the organizations, the writers and the other workers around the world who turned out in person and on social media to show support for our strike. I am blown away by the amazing actions, and seeing the photos and hearing the words of solidarity gives our members strength for the struggle. Thank you for standing with us. – Meredith Stiehm, WGAW President
"I'm proud of, and grateful to, the thousands of European screenwriters who, organised by their guilds, turned out on June 14th to support the WGA in its strike. We're stronger together. Joined by friends from IAWG and UNI-Mei the support for the WGA is global. Such a global response will be increasingly essential. Thank you to everyone. See you next time!" – Carolin Otto, FSE President.